Fluorosis Project – Kaiwara, Karnataka
PROJECT FACTS
Duration
Key Action
Prevention and treatment of hydric fluorosis through interventions in Kaiwara, Karnataka.
Summary
Collected data through a pilot study. Subsequently, set up a four-phase project.
Result – a self-sustaining, de-fluoridation RO plant.
Impact – immediate access to clean, unpolluted water, and a significant reduction in fluoride levels.
Target Beneficiaries
People in rural areas are unaware of the harmful effects of fluoridation.
Villages without RO facilities and access to clean water.
Project Coordinator
INTRODUCTION
Nanjappa is a bricklayer, living in Kaiwara where most of the people in his village are menial laborers. At just 37, Nanjappa has bone issues and the local doctor had told him that he needs to take more calcium supplements. But more than himself, he is worried about his 12-year-old son's health. His son, as with other kids, was beginning to show some worrying dental issues. Nanjappa is grappling with the debilitating effects of fluorosis.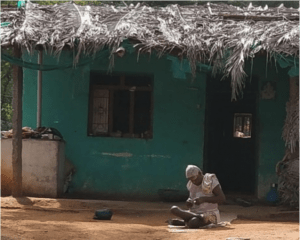 Our water is not drinkable. People say there are lots of chemicals and it's polluted."
What is fluorosis?
Fluorosis is a chronic condition caused by the excessive intake of fluorine compounds, characterized by mottling of teeth and calcification of joints.
How is it caused?
Using groundwater instead of surface water extensively for drinking purposes.
A sense of urgency  
25 countries affected
12 million out of 85 million tons of fluoride are in India
66 million Indians are at risk
6 million are children under 14
"They say fluorosis is why our kids have stained teeth, and bone problems."
Fluoride toxicity can cause multiple ailments ranging from cancer to Attention Deficit Disorder (ADD).
That's why we, at Ramaiah Medical College and Hospitals, fought for solutions, including prevention.
Types of fluorosis
Dental fluorosis
Most obvious form with white mottling of teeth
Skeletal fluorosis
Often appears as "generic" osteoarthritis and/or osteoporosis in relatively young adults
Systemic fluorosis
Fluoride toxicity can cause major multiple cause ailments from cancer to Attention Deficit Disorder.
What we did
Our pilot study done in four phases in 2011 showed that 55% of school children from the 1st to 7th standard in Kaiwara had dental fluorosis according to the Dean's Index.
Hydric fluorosis was endemic in this village, compromising the psycho-physical growth of the children in the village. We set up a four-phase project in Kaiwara.
Phase 1 – Pre-intervention study and clinical examinations were conducted to detect the presence of fluorosis in more than 3,000 people
Phase 2 – A Reverse Osmosis (RO) plant was set up
Phase 3 – Post-intervention study including 250 households
Phase 4 – Analysis of pre- and post-intervention population was conducted
A self-sustaining 40,000-liter capacity de-fluoridation RO plant was set up.
De-fluoridation was done by minimizing the use of alternative water sources and removing excess fluoride from drinking water. The water also underwent desalination, the process of treating water to take away the salt and mineral content, which also considerably reduced the fluoride component.
Impact
Immediate access to clean water for drinking and cooking
89.8% of the families accepted de-fluoridated water for daily use
99.4% of families were willing to contribute Rs 5 for 25 litres of processed water for the village
Significant decrease in the water and urine fluoride level
Today, Kaiwara has 3 reverse osmosis plants and 5 more in the surrounding villages.
We are inspired by our progress and to have joined hands with the
Gram Panchayat
Water supply authorities
Electricity Board
Health and Family Welfare departments
Integrated Child Development Scheme (ICDS)
Yogi Narayana Ashram
Council of Scientific and Industrial Research (CSIR)
Today, we share our progress and offer our expertise to other countries to help them structure their projects and find inspiration.
Nanjappa can now breathe a little easier.
That's our impact and the realization of our vision.